Unpacking Shadow to Light
Behind the scenes of our San Francisco Design Week installation
One of the most compelling challenges of working at Airbnb is holistically thinking through how everything we design–whether it's our creative work, internal culture, or team structure–can be more globally inclusive. Our ambition to create solutions that work for all, not just a segment of our community, requires us to constantly explore the limitations of our perspectives and actively expand them during our creative process.
So when SF Design Week approached us with a challenge — could we create an installation that would align with their "Question Everything" theme? — we saw an opportunity to extend this conversation externally. An internal sprint organically led us to create an experience that addresses how bias – our preconceived ideas – and assumptions can impact the efficacy of the solutions we design for global communities.
Seeking perspective
Our appreciation for the type of growth we experience when we connect with hosts and explore local cultures during our travels has influenced our internal design culture. We actively seek out fresh perspectives and inspiration from unexpected disciplines, places, and people. With a theme like "question everything," and the state of current events, we identified journalism as a field we could learn from. Designers and journalists are both curious by nature. The impact of bias in both industries can have a damaging effect on communities they aim to serve. Within design, bias gets in the way of inclusive creative solutions. Within journalism, it can contribute to a misinformed public.
We decided to engage News Deeply, a journalism startup, after listening to CEO, Lara Setrakian's TED Talk on how to fix the news industry. Lara and her team of journalists are dedicated to providing in-depth coverage of the world's most critical challenges. Each News Deeply site covers a single topic ­­— the Arctic, refugees, Syria, water in the American West, and women and girls — and explores those subjects with a team of experts. They provide a nuanced understanding of complicated topics, each one from different perspectives. They report on solutions, not just the issues.
Defining the experience
Together we wanted to host a thoughtful experience that would put the perspectives of the attendees into question, and move them from questioning into action. We agreed to avoid abstract conversations about bias that cause paralysis and instead, anchor the experience with relevant, personal narratives. We landed on a content partnership with News Deeply that examined how bias clouds our views around the lives and experiences of refugees.
In their Bags and Belongings series, created by Refugees Deeply founding editor Preethi Nallu, journalists ask displaced individuals what they packed in their bags when they undertook dangerous journeys in search of safety. We commissioned five globally diverse narratives to spotlight: the stories of Abuzar, Shahed, Diala, Nur, and Sharif. We wanted the audience to experience their stories intimately in order to dispel many of the commonly held assumptions made about refugees' lives and aspirations and connect it back to our larger theme.
Deconstructing Shadow to Light
The heart of our creative approach was to recontextualize spaces and objects that represent home as a way to build empathy for strangers and recognize how our biases limit our worldview. This became our Shadow to Light installation.
Caption: We built an Airbnb "home" in the middle of the conference grounds. We positioned the space as a showcase experience that explored light and shadow. Representative color coded items from each person's story were woven into the design of the living room in way that they would be noticed but not understood. We placed them within a monochromatic space. Beyond its aesthetic value, the dark room became a metaphor for the shadows cast by our biases.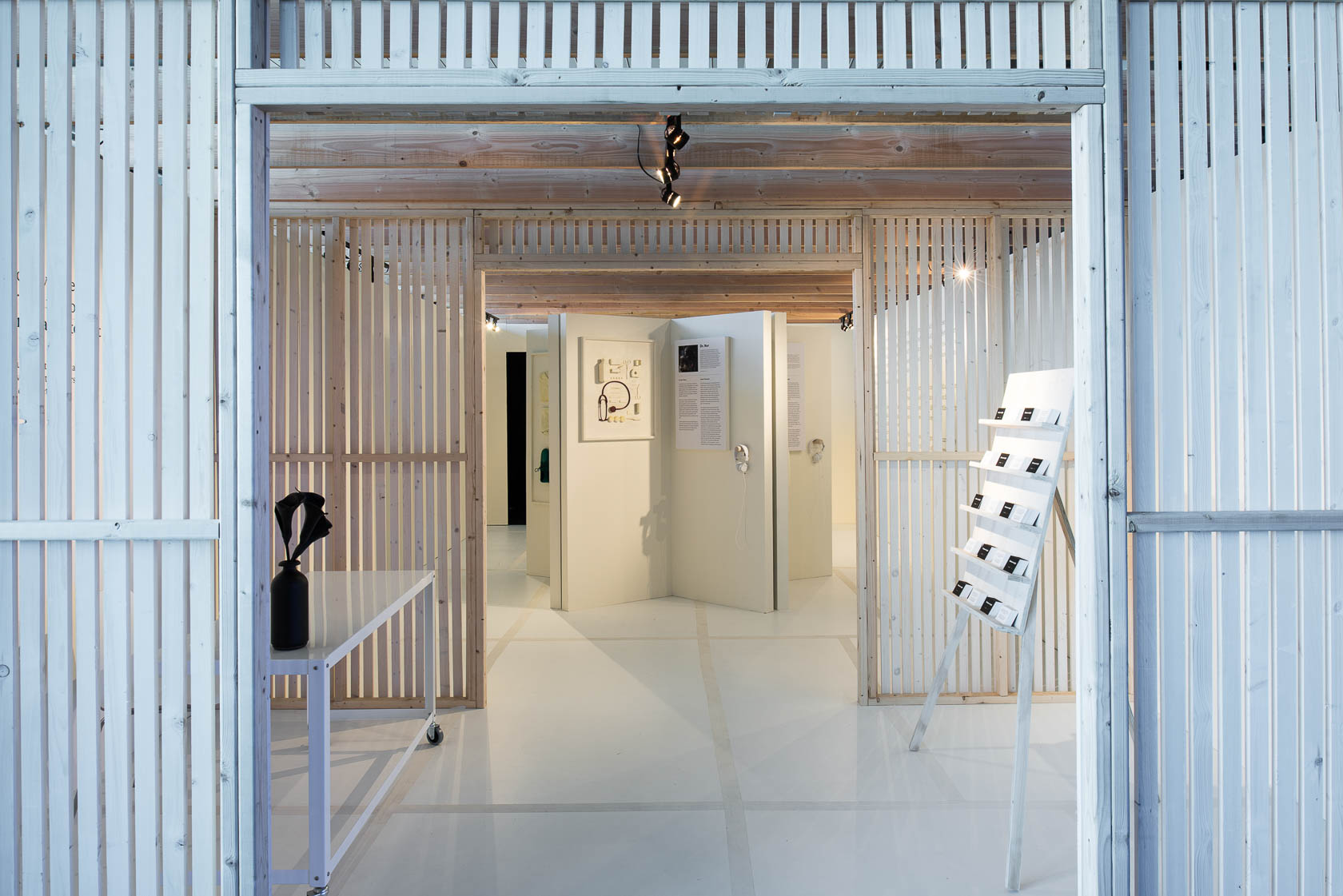 Caption: To provide a counterpoint, we created a second room – a stark white gallery that literally shined a light on the narratives, representing clarity and uncovering assumptions. Here, the colorful items seen in the previous space were recontextualized and shown alongside their owners.
Caption: As we designed the booths, accessibility was a main priority. We used wood floors and low pile carpeting  to ensure wheelchairs could move through the space with ease. We also provided transcripts, audio, and braille summaries to ensure the experience could be enjoyed by all potential attendees.
Each refugee's narrative, paired with their belongings, dispels common assumptions regarding the refugee community. The stories encourage conference attendees to relate to their desire for belonging, and celebrate diversity while recognizing similarities to their own experiences. To move the exhibit space from darkness to light was to symbolize the attendees progressing from an incomplete perspective to clarity as they begin to see a fuller picture.
Another Lens
Moving beyond Shadow to Light, our next step was to provide our attendees with practical tools to move from self reflection to action. Together with News Deeply, Airbnb Design research team created a virtual deck of cards with guiding principles that we hope can prompt a change in perspective during the creative process. This interactive tool, which we call Another Lens, poses a series of questions that encourage its audience to balance their bias, consider the opposite, and embrace a growth mindset. The questions are paired with background information and research that puts them into context, and suggests specific ideas for action. Finally, we invited Lara to host a conversation around bias with the community, as part of our Design — Talk series, so we can continue the conversation.
Confronting our biases
Because there is no such thing as an unbiased person, we recognized that the process of creating this experience would reflect our own assumptions back to us, and we welcomed the discomfort. Overall it was very sobering to share Abuzar, Shahed, Diala, Nur, and Sharif's stories. We didn't want to cheapen their experiences with our own privilege, and with every decision we had a mirror reflected back at ourselves. Did each person's story accurately showcase their strength and light? Were we unintentionally representing ourselves as experts on bias? … etc.  The process led us on a journey to understand own misrepresentations of how we see the lives of others.  We recognize and respect that the challenge to undo bias is perennial, continually demanding our growth. Our journey mirrors that of our attendees; we're committed to creating with integrity and inclusion.
We invite you to immerse yourself in the digital version of Shadow to Light and then explore Another Lens.

_
It takes a village. Here's our creative team:
Environments and graphic design: Andrea Nguyen | Interiors and prop stylist: Kylea Borges and Jennie Gale from Current Affair | Experience and product marketing design: Meredith Schomburg and Katie Chen | Another Lens content: Anne Diaz, Charlotte Alfred, Kim Bode | Bags and Belongings content:  Preethi Nallu, Kim Bode, Laura Mandel | Copy: Vero Maldonado, Jensen Power, Michael Smith | Design builder: Dylan Hosey and Skiff Builders | Engineer: Brian Harrison |  Motion Design: Salih Abdul-Karim | Sprint team: Cameron Sinclair, Michael Austin Sui, Adam Glynn Finnegan, Vivek Venkatraman, Steve Selzer, Betty Shen and Mudit Mittal | Photographer: Drew Kelly | Prop photographer: Ben Wilkins |  Videographer: Arthur Kobin | Creative producer: Sarah Goerzen | Creative strategy lead: Sola Biu
Thanks to our partners Eleanor Harwood  and HD Buttercup for our art and furniture.
Up Next