Secret Menu
A recap of our Content Strategy team's unconventional dining experiences at the Confab conference
Offline, experiential moments are at the heart of Airbnb. They're how we erase barriers, experience new cultures, and form meaningful connections. Each spring, professionals with a passion for design and writing gather at the Confab conference in Minneapolis—a city known for its love of the arts—to discuss best practices and content trends, and to learn from one another's diverse perspectives.
Every year on opening night, Confab holds dinner reservations for attendees to get to know each other. So this year for opening night, we decided to do something a little differently. We transformed their usual dinners into six distinctly unconventional dining experiences that explored all of the senses.
Our challenge was to get 70 writers to sign up for intentionally mysterious events, with strangers, in a new city—all with the hope of fostering new connections and creating memorable local experiences.
Reflecting a city's culture
While Airbnb Experiences aren't yet live in Minneapolis, we felt it was important to recreate the sense of adventure they lend during our time at Confab. We decided to host six separate dinners sprinkled throughout the city—each with an activity and a dash of delight.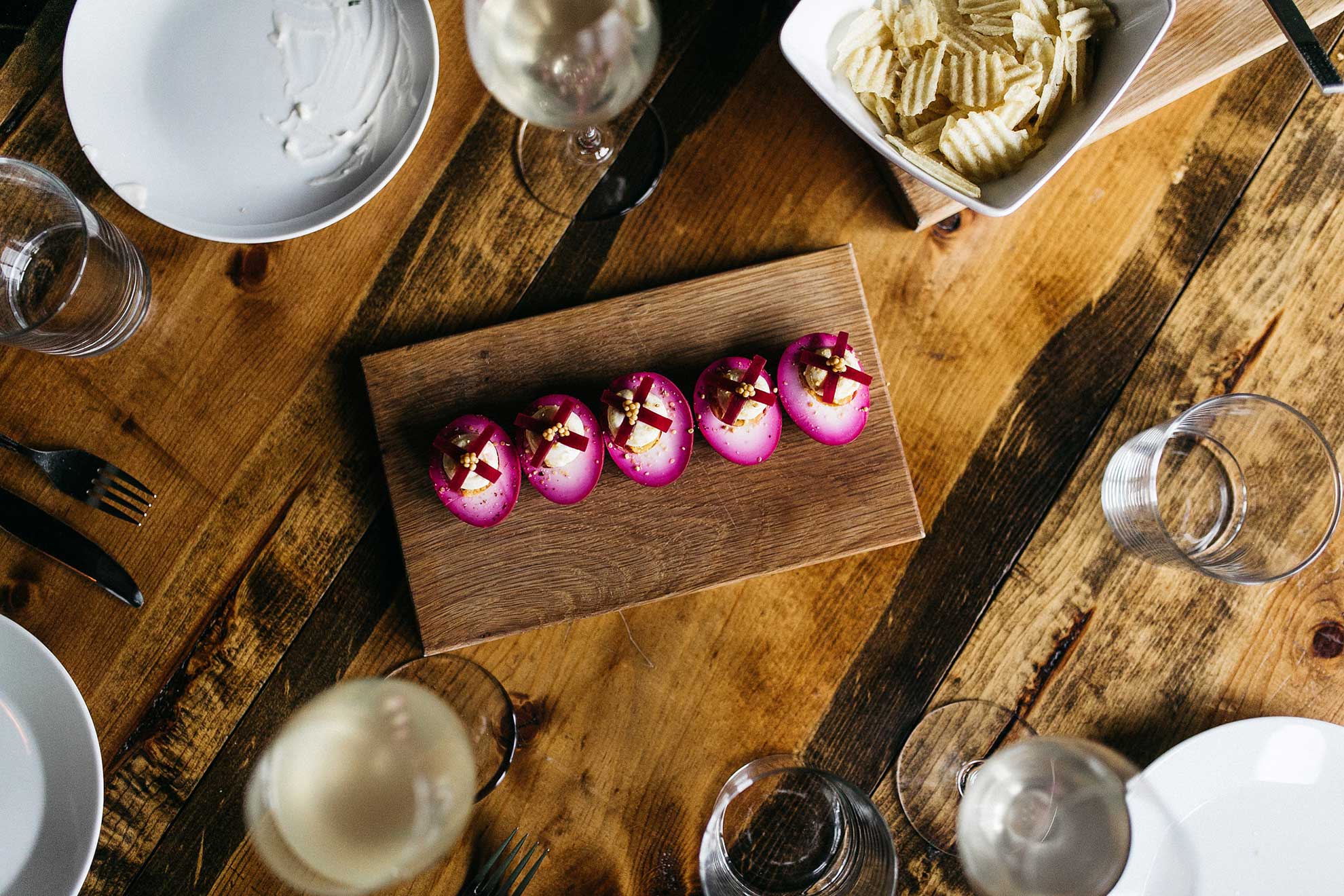 To ensure that each dining experience was unique and engaging, our Creative Producer gathered insights from Airbnb's Trips Operations team to understand what types of experiences are most popular. The attendees weren't Minneapolis locals and their time to explore outside of the conference would be limited, so she set out researching memorable Minneapolis gems—something unexpected, not overdone, and reflective of the city's diverse, bustling culture.
Along with our restaurant partners, we designed dinner surprises that ranged from fermentation classes and cocktail mixing to a mural tour on bikes and tasting the way through the Midtown Global Market.
Something for everyone
Accessibility is important to us, so we created experiences that were a true exploration of the senses—all of which people could self-select into. By providing more options for attendees, the event became more inclusive. Even small content considerations can make a huge difference—like inviting guests to 'go on a journey' instead of 'see Minneapolis'.
While the invitation and dinner descriptions were purposefully vague—truly a "choose your own adventure" moment—we made sure to include language that allowed our guests to select the path best suited for them.
"Kick off Confab with content strategists from Airbnb as they host a collection of six unconventional dining experiences throughout Minneapolis. Each one is designed to delight differently, so follow your intuition and choose what calls you most. Together you'll set out on the town, embrace the unknown, and go on a sensorial journey unique to our host city, Minneapolis."
Being a host is a core value at Airbnb—we understand the the importance and nuance of the role. Hosting requires ensuring everyone feels taken care of and bridging gaps between strangers, while also making sure things run smoothly behind the scenes.
It's the thought that counts
Meeting new people at a packed conference can be intimidating, especially for people who are introverted. The dinners were delicious and the activities were fun, but it was our creative partners and the openness of our guests who made the evening a success.
Our partners took something routine—dinner—and made it experiential. This allowed our guests to experience their host city outside of a work context, and make more meaningful connections with fellow conference-goers in more relaxed settings.
—
Special thanks to:
Minneapolis partners: Gyst Fermentation Bar, Trapeze by Barbette, Midtown Global Market, Icehouse, Sommelier Leslee D. Miller, Goodspace Murals, Fig and Farro, Spoon and Stable, The Bachelor Farmer, and Natsuki Kumagai
Airbnb Design Creative Producer: Sarah Goerzen
Airbnb Content Strategy Hosts: Michelle McAlister, Victoria Sanchez, Marissa Phillips, Madelyn Taylor, Lauren Patti, Willys Devoll, Abbey Blanchard, and Dylan Halesworth
—
Images by Bethany Schrock
Up Next