Reflecting Identity
A recap of our immersive gallery experience with Joshua Kissi
Two-hundred guests from the local creative community entered through a café that opens up into a large, exposed brick, multi-level venue. Once a French laundromat, The Laundry is a shared work space by day, event space by night, that's nestled in San Francisco's Mission District. 70s Afrobeat music played in the background of a dimly lit room featuring large, stunning portraits. The occasion? The season finale of Airbnb Design—Talks featuring photographer and Creative Director, Joshua Kissi.
Reflecting Identity was perfectly fitting for our finale, as the entire season featured artists who explored what it means to be inside or outside of boundaries. A first generation Ghanaian-American who grew up in the Bronx—and the Co-Founder of TONL and Street Etiquette—Joshua channels his distinct perspective and captivating style to champion communities of color in stock and lifestyle photography.
Upon arrival, guests were transported by aromas and flavors that offered a taste of Joshua's cultural upbringing—a combination of the many cuisines of New York and traditional Ghanaian ingredients. Fogcutter thoughtfully prepared and passed light bites including chorizo and yam croquettes, shito eggplant, and plantains with black eyed pea salsa. Our guests also had the opportunity to try bofrot, meatpies, and a sweet, non-alcoholic malt—a favorite Ghanaian beverage.
Guests then made their way through three distinctive exhibits that represented Joshua's identity and culture, challenging false narratives, and life skills not afforded to all. Powerful portraiture included Joshua and his family, fashion photography, and swimming lessons in Baton Rouge—all featuring people of color.
Under the warm glow of string lights, a packed yet cozy crowd intently listened to stories of Joshua's upbringing, lessons learned, and breakthroughs. Through his talk and the Q&A that followed, together, everyone reflected and discussed topics including authenticity, race, honest representation, relationships, and responsible creative work. Joshua's disarming nature, humor, and willingness to be vulnerable inspired others to let guards down, ask important questions, and share their own stories.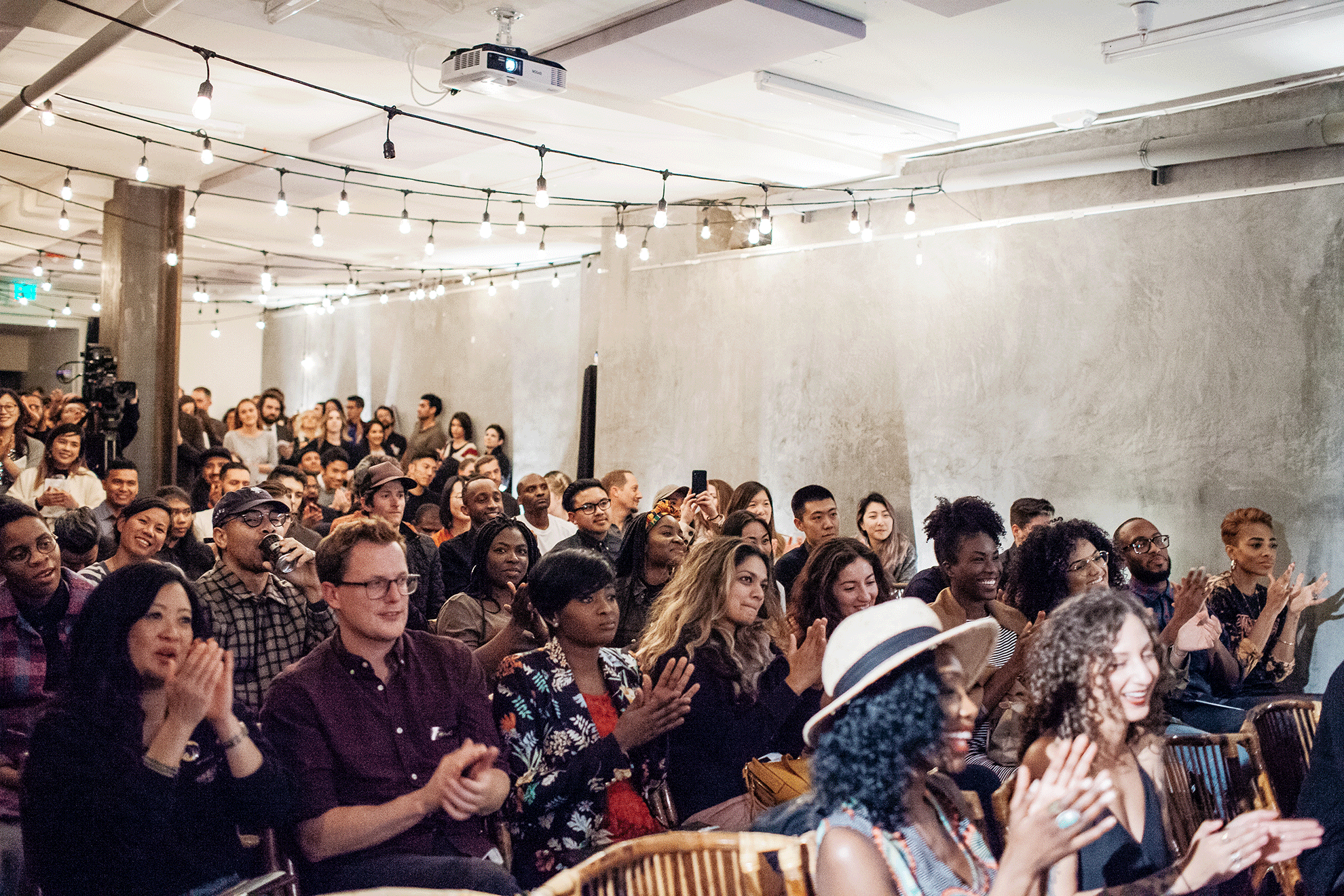 Though differences were discussed and Joshua encouraged people to wear them proudly, the evening broke down barriers and brought people together. He summarized perfectly when he said, "The moment you feel uncomfortable is an opportunity to tell your story. If you express yourself, you can change the narrative for everyone around you."
Check out the behind the scenes video.
Cover image by Joshua Kissi | Event images by Adrian Walker
—
A huge thank you to our partners who helped make the event possible.
Fogcutter | Sade's Pies | Tonic |Ampersand | Stellar Vintage Electronics | Concreteworks
Up Next