Making Connections Through Music
Toronto's Del Mahabadi uses concerts to build community
Del Mahabadi is a lifelong music lover. But it was a chance encounter with a live blues performance in Toronto seven years ago that cemented music's place in her life as something more than just an informal interest. Shocked at the night's sparse attendance, Del, an Ontario native, was inspired to start The Iscream, an online publication devoted to the Canadian music scene. She also went on to found Toronto R&B Sounds, a series of intimate concerts featuring a curated lineup of local musicians—a project designed to support up-and-coming talent. Later, she launched the event as an Airbnb Experience to introduce locals and visitors alike to Toronto's vibrant music community.
When we made the decision to bring our Creative Space series to Toronto this spring, it only made sense to include Del—and a special edition of Toronto R&B Sounds—as part of it. On June 6, more than one hundred attendees gathered at the Distillery District to watch local artists Yoko Gold and Dallas perform in a space set up to mimic the series' warm and intimate setting. "I felt moved for every minute of it," Del says. "And I wasn't the only one: I had an audience member come up to me afterward, saying, 'I never thought I'd cry to Hotline Bling!' Overall, it was one of the most harmonious projects I've had the pleasure of working on."
Here, Del tells us more about her city, her work, and which Toronto musicians you need to know about now.
A quick Google search of your name reveals a background in psychology, data science, digital marketing, and communications. Where does music fit into the mix, and what led you to start The Iscream?
The Iscream was a project that I wanted to see come to fruition solely because of the need for it in the city. I wanted to create a platform that was committed wholeheartedly and obsessively to the Canadian music scene. Music has always had a big impact on my life. I am not from a family of musicians, nor am I a musician myself. I am simply a fan, a listener. I wanted to contribute to its longevity—especially in my own country—by helping those who create it in any way I could. 
Singer Yoko Gold plays to a diverse crowd for an intimate session of Toronto R&B Sounds.
On your Airbnb Experience page, you write about a show you attended in 2012 that inspired your Toronto R&B Sounds concert series. What about that night touched you so deeply?
When I was playing around with the idea of creating The Iscream, I was a cocktail waitress at a wine tavern in the financial district of Toronto. After work one day, I was walking home, and as I was getting close to my house, I heard some soul music coming out of a bar called Joe MaMa's. The bar was very inviting, and the inside was dimly lit with red lights. I decided to give it a try. I sat at the bar and ordered a glass of pinot noir. 
Before I knew it, four musicians appeared in the nook of the bar. They introduced themselves as the Blackburn brothers. Then they began to play Bill Withers's "Use Me." The entire place was filled with this captivating energy that I hadn't experienced before. The band wasn't very popular at the time, but that didn't matter. It was the first time that I truly took in the fact that popularity is no measure of talent. I was mostly surprised that there were only about four other people in the bar witnessing this. That gave me the incentive I needed to create The Iscream in order to support the Canadian music scene in a meaningful way.
 Toronto R&B Sounds took a lot of inspiration from that night. The events are dimly lit with red accents. The venue is tucked away behind a bar, and whether there are four people in the room or 100, the experience—the spirit, the energy, the camaraderie—remains unchanged.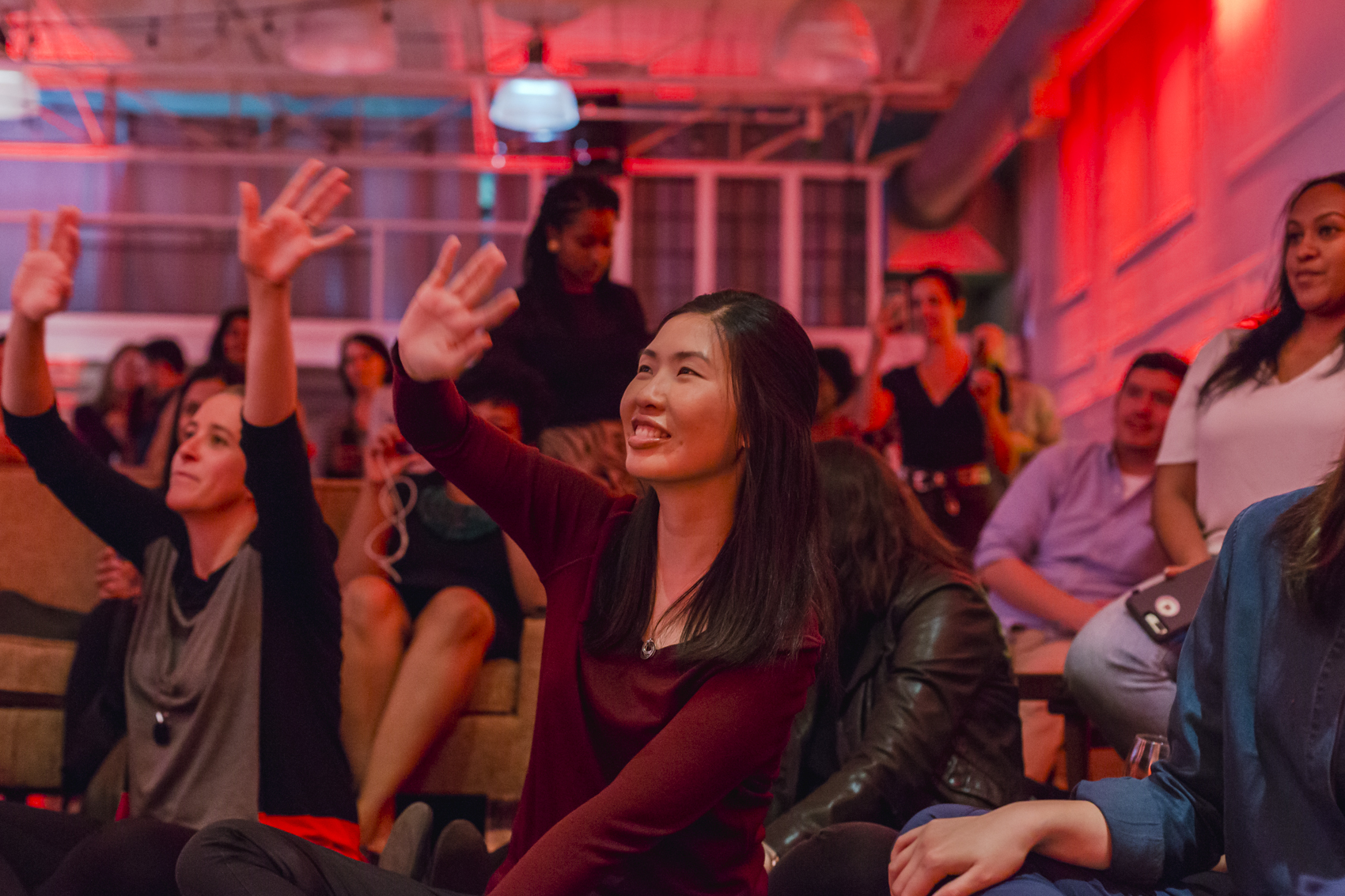 Concert goers sway along in a red-lit room at the Distillery District.
What was most important to you in developing Toronto R&B Sounds? What were your goals?
First, I wanted to place a spotlight on R&B vocalists in the city who reflected the traditional sounds of the genre. I also wanted to change the community's perspective on live, local sound. It was important to me that the relationship between the artist and the audience was mutually beneficial, with neither walking away from the experience feeling that one did the other a favor. I wanted the audience to feel moved, captivated, and enchanted. I wanted the artist to feel empowered, respected, and celebrated.
Dallas, a Toronto-based musician, woos the crowd with lush vocals.
When it comes to live music destinations, we're used to hearing about London, Nashville, Austin, and New York. In your opinion, what makes Toronto worth adding to the list?
I believe music lovers have already added Toronto to the list. Although the cities mentioned above have historical musical significance, Toronto represents the new sound. It was just ranked the top Canadian city for live music by Ticketmaster. Artists in the city pay homage to the traditional sounds of their respective genres while bringing something new to every project they touch. The world has changed drastically over the last two decades, and the music that comes out of this city mirrors those changes. It's evolved alongside its audience and its environment. Artists in this city experiment and dive deep when it comes to both their songwriting and production.
From left to right: Dallas, Yoko Gold, and Toronto R&B Sounds founder Del Mahabadi.
Inclusivity is a key component of each event you host. What does being inclusive look like in the context of a musical experience, and how have you approached creating concert environments that are accessible to all?
Being inclusive looks like love, if love could take form. All performers who are part of our series must adhere to our strict policy that prohibits prejudice and harassment of any kind. We want to create a safe space for everyone. At our events, you will find yourself in a room full of people of different races, gender identities, ethnicities, sexualities, religious backgrounds—you name it! 
But the most special thing about this is not that they are all occupying the same space, but that no one cares. No one cares to notice that there are people in the room who are different from them. For three hours or so, every person in the room is exactly the same: lovers of R&B in a dimly lit room full of strangers, who are just as mesmerized by the performances as you are.
What role has Airbnb played in growing this series?
I have been hosting live music events in the city ever since the realization of The Iscream. However, these events drew only local audiences. Since listing the series as an Airbnb Experience, we've managed to elevate the concept, both from a listener's perspective and the artist's. The room is now filled with people from all around the world and Toronto locals, which helps the artists build a fanbase worldwide. And visitors to Toronto are able to experience a unique aspect of the city in an incredibly exciting way.
Tell us about the Creative Space Toronto event. What was most memorable to you about that night?
The design team at Airbnb reached out to me about bringing Toronto R&B Sounds to the event. I was worried that I wouldn't be able to capture the energy of the series at a corporate event due to the space being so large—intimacy is important in the locations we choose for our concerts. However, the Airbnb team worked with me to mirror the Toronto R&B Sounds space with objects and furniture that spoke to the same type of look and feel. We had guests sit on carpets, and we managed to create a magical, intimate space, even in a larger setting. 
The most memorable moment of the night was watching Yoko Gold and Dallas, both artists from Toronto R&B Sounds, who were selected specifically for the night. Their performances were nothing short of incredible.
For readers in search of new music: Which Toronto musicians have you been listening to lately that you're most excited about?
One thing we do at Toronto R&B Sounds is record some of the artists' live sets and share them on our SoundCloud page. This allows the audience to listen to the performances that they were physically in the room for. It also keeps me from going insane from having unreleased tracks stuck in my head for months, with no way of listening to them again. On my list lately is a lot of MighLoe, Joyia, Kiana, Del Hartley, Chris Oday, Yoko Gold, Dallas, Aphrose, and Amanda Mae.
Toronto-based singer Dallas.
What's been most rewarding to you about the experience of bringing people together through music? Are there any particular memories from this journey that stand out to you?
The most rewarding aspect of Toronto R&B Sounds is knowing that lives are being touched through music. Artists are being given a platform to share their talent, and audiences are being given a space to receive it in a way that leaves an impact. I've seen artists do their first-ever performances at our show, and later go on to open for bigger industry names. I've seen artists meet other artists through these events, work with those artists, and create music together. 
 One of my most memorable moments was an event we held this summer called R&B Under the Stars. It was an intimate concert for thirty people that took place on a ship. It had been raining all week and the forecast was showing thunderstorms. However we decided to move forward with the hope that the weather would pass before our event began. And it did. Once we got out onto the water, the entire sky turned pink as the sun set. The Toronto skyline was pink; the water was pink. Together with the music, the vibe couldn't have been more perfect. 
Rumor has it a hip-hop version of the concert series is in the works. Tell us more!
It's true […] we are hoping to get the series up and running in the fall—stay tuned!
Up Next