From Pixel to Place
Exploring digital and offline design during London Design Festival
This is a behind-the-scenes look at Airbnb Design's "From Pixel to Place" activation during London Design Festival 2018. Video highlights of the event and panel conversation can be immediately accessed halfway through the article.
As Airbnb continues to evolve into a travel platform, it becomes increasingly important that our design team blends digital and offline environments to create a more seamless travel journey. Our community engages with our brand in a variety of ways: through our  website, app, experiences, homes, print magazine, social media, and events, as well as through untraditional spaces. Our intention is that every part of their journey with us feels considered and connected–whether a traveler is flipping through the pages of the latest "Airbnbmag" issue in a coffee shop, checking into an Airbnb, or signing up for a local experience. Although technology powers our product, most of our experiences happen after a traveler presses the Book button–during those times when they aren't connected to wifi.
The aspiration is to create a cohesive travel journey naturally presents an evergreen set of technical, environmental, cultural and logistical challenges for us to untangle. A  key question that keeps vaulting to the top of the pile: How do we artfully blend digital and offline design in a useful way that feels cohesive, organic, and human instead of disconnected and dystopian? We brought this question to London Design Festival, one of the largest design fairs in the world, to explore the answer with a broader, digital, and offline design community.
Venturing beyond digital
To bring this inquiry to life, we hosted an event that explored the role design plays in blending digital and offline environments in art, commerce, and travel. We focused on creating a seamless experiential convergence at every touchpoint of the audience journey–from the initial invitation to the final handwritten thank you note.
First,  we curated a panel of creative leaders to share their perspectives on the subject matter. Each person represented a different point of view in the  digital to offline spectrum. Our panel included Alex Bec, Co-Director of It's Nice That (moderator),  Corinna Gardner, Senior Curator of Design and Digital at the V&A Museum, Mona Kim, Founder and Creative Director at Mona Kim Projects, Adam Rodgers, Partner and Creative Director of International Magic and Alex Schleifer, VP of Design at Airbnb.
Next, we staged the conversation within an immersive and participatory environment of blended digital and physical installations to reinforce the topic. We selected five travel stories from different cities–Hong Kong, Capetown, Costa Rica, Copenhagen and New York–to bring to life as installations in the space. Each story had gone through our digital/offline ecosystem–it was available in our app as a bookable experience and had previously been featured as article in "Airbnbmag."
Curating local partners
As newcomers to the London creative scene, we wanted to ensure our tone was respectful, the subject matter relevant, and the experience localized. To achieve this, we sought out local partners with shared values.  
It's Nice That—a digital creative platform with over 1.5 million community members–is a brand we admire for their thoughtful curation and commitment to championing creative inspiration for anyone. Their ecosystem, like ours, spans across digital and events, ensuring a shared understanding of the subject matter and local insights about the creative community.
Our production partner was Bompas and Parr, a global leader in spectacular, multi-sensory experience design. After seeing their portfolio of projects–from an inhabitable cloud of gin and tonic (yea, seriously) to establishing the British Museum of Food–we knew they were our experiential soulmates for this activation.
Bridging the gap through our design system
To create the "From Pixel to Place" design system, our brand designer, Meredith Schomburg, used imagery from "Airbnbmag" stories and accompanying experiences represented at the event, imagined them as digital illustrations, and then blended both perspectives. When possible, we used animation–thanks to our motion designer Salih Abdul-Karim–to show the seamless transition we aspire to create in our digital to offline brand experiences.
In the same way we acknowledge that each environment has its own unique qualities, the final result was meant to be a creative representation of each photo rather than a perfectly rendered replica. We applied the design system across all our digital and physical assets.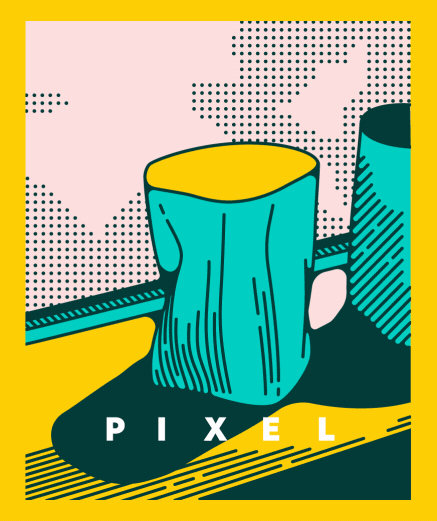 Designing serendipity
No two Airbnb trips or experiences are ever the same, and as a result, events are an important differentiator for our creative brand team. Every event we host needs to reflect our sense of adventure and serendipity. To ensure we delivered on that promise, every aspect of the environment encouraged play and opportunities for connection.
The iconic Barbican Conservatory—a brutalist structure in central London with a tropical oasis nestled in it's core—became our location to represent our Costa Rican waterfall chaser story. From a Danish Karaoke booth and live-scored panel, to a Capetonian-inspired radical flavor quest accompanied by dim sum service, there was something unexpected for every attendee to engage with. The Bompas and Parr team translated each Airbnb story into a playful installation that was a magical and participatory expression of our brand.
To maintain that sense of serendipity it was also important to us that guests understood all their potential options for the evening, without making it feel overly prescriptive. Finally, to ensure we expanded the conversation beyond our 170 attendees, we partnered with Pavilion Works to capture event highlights for our broader digital audience.
Overall, we were grateful for the opportunity to host so many brilliant minds, and everyone in attendance contributed to an important conversation about our responsibility as creatives when designing for new frontiers.  Check out the video below to enjoy some conversation highlights, and then shuffle over to It's Nice That to read their recap.
Event photography: Sophie Jones | Video production: Pavilion Works
An additional thanks to:
Our panelists, Bompas & Parr, It's Nice That, Sarah Goerzen, Meredith Schomburg, Madeline Moore, Salim Abdul Karim, Liza Dunning, The Barbican, Nonny Orakwue, Morgan McTiernan, and all the local partners that made this event come to life.
Up Next