Food for Thought
How designers and chefs cultivate community
To celebrate the release of our new local recommendations Guidebooks product, Airbnb partnered with XX+UX to host an event with writer and chef Samin Nosrat about cultivating community through food. Google's XX+UX is a community of women who support each other through monthly meetups organized around sharing experiences and fostering professional growth.
We hosted the event at Vive La Tarte, an Airbnb neighborhood partner and Guidebooks recommendation. Britt Nelson, Vero Maldonado, and Christie Auw, members of our design team, kicked off the evening with a discussion about the development of Guidebooks.
Samin Nosrat is a Berkeley local whose passion for food and words has shaped the course of her career. From her early days in the kitchen at Chez Panisse to her work with Michael Pollan on the Netflix series, Cooked, Samin approaches culture and creativity through the enduring ways that food brings people together. Her forthcoming book, Salt, Fat, Acid, Heat: The Four Elements of Good Cooking, features playful illustrations by artist Wendy MacNaughton and will be out in 2017.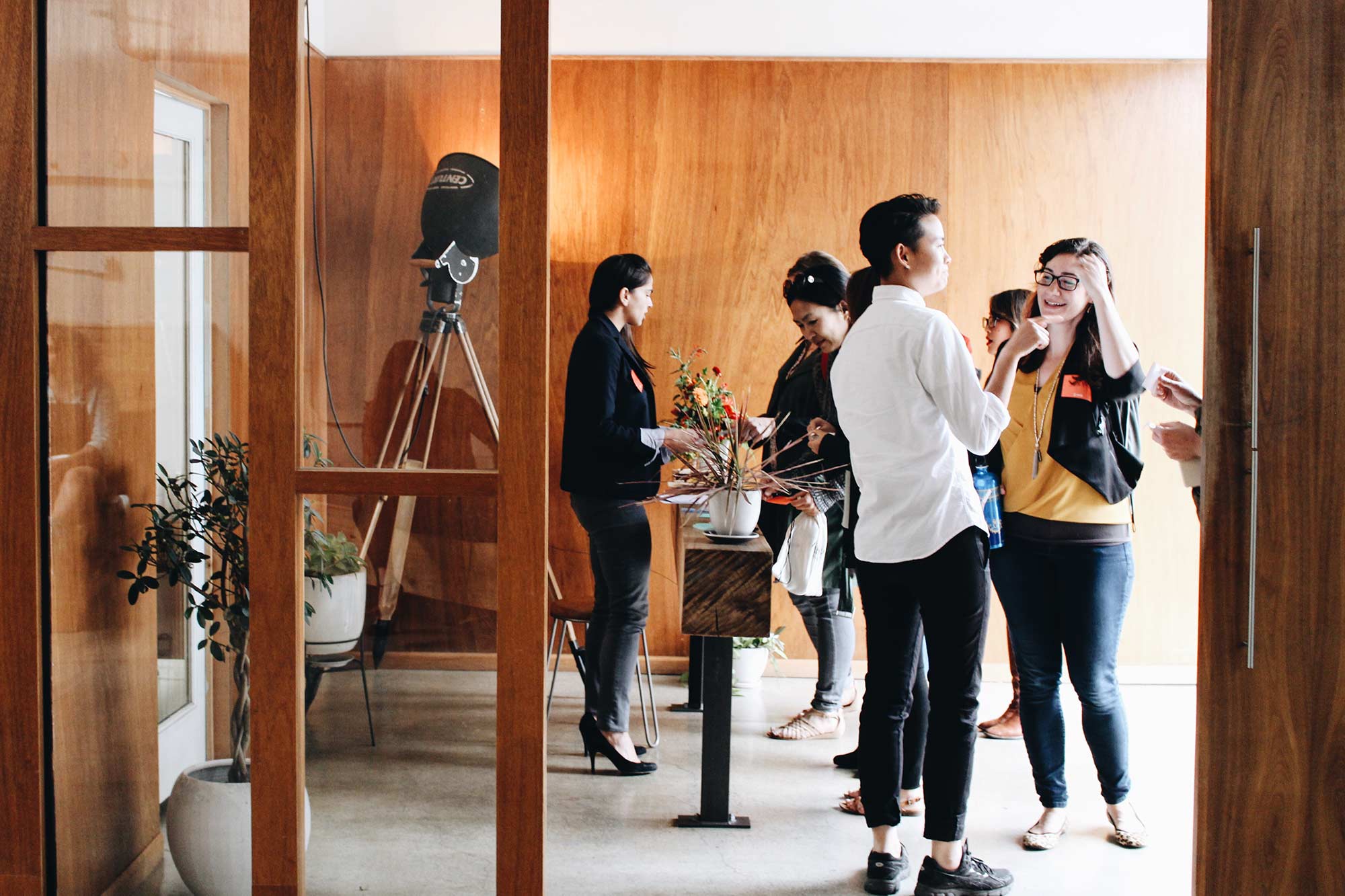 Guidebooks was born out of the desire to live like a local. Part of being a local is about building empathy through the wide range of experiences every city and culture has to offer. Samin spoke to her own experiences, both at home and abroad, bringing people together over a good meal and listening to the creative voice that drives her.
On listening and finding her voice
"For 36 years I've been eating," she said, "it's a fundamental part of our existence because we all have a relationship to food." Sharing her own family's culinary culture, she explained the ways that food is universal, "People coming together and eating together is really the beginning of community." As a second generation Iranian-American, Samin felt the pressure to excel academically and become a doctor or lawyer. Luckily, a high school English teacher, urged her to indulge her creativity and pursue her love of writing instead. "He helped me find a little voice in my heart, and I haven't been able to stop listening to it since." This solidified Samin's journey through the creative fields of food and writing.
Valuing individual knowledge and shared experiences
At 19, Samin began her career in the kitchen at Chez Panisse. Overwhelmed by the knowledge and expertise that surrounded her, she immersed herself in the work. "I just kept showing up, reading books and asking questions, and eventually I began to see patterns in the kitchen." Her passion for food took her around the world. "Wherever I went, good cooking was constant," she said. And then she had a lightbulb moment understanding that our best experiences of coming together over food are about more than the meal itself–they're about sharing our humanity and fostering empathy.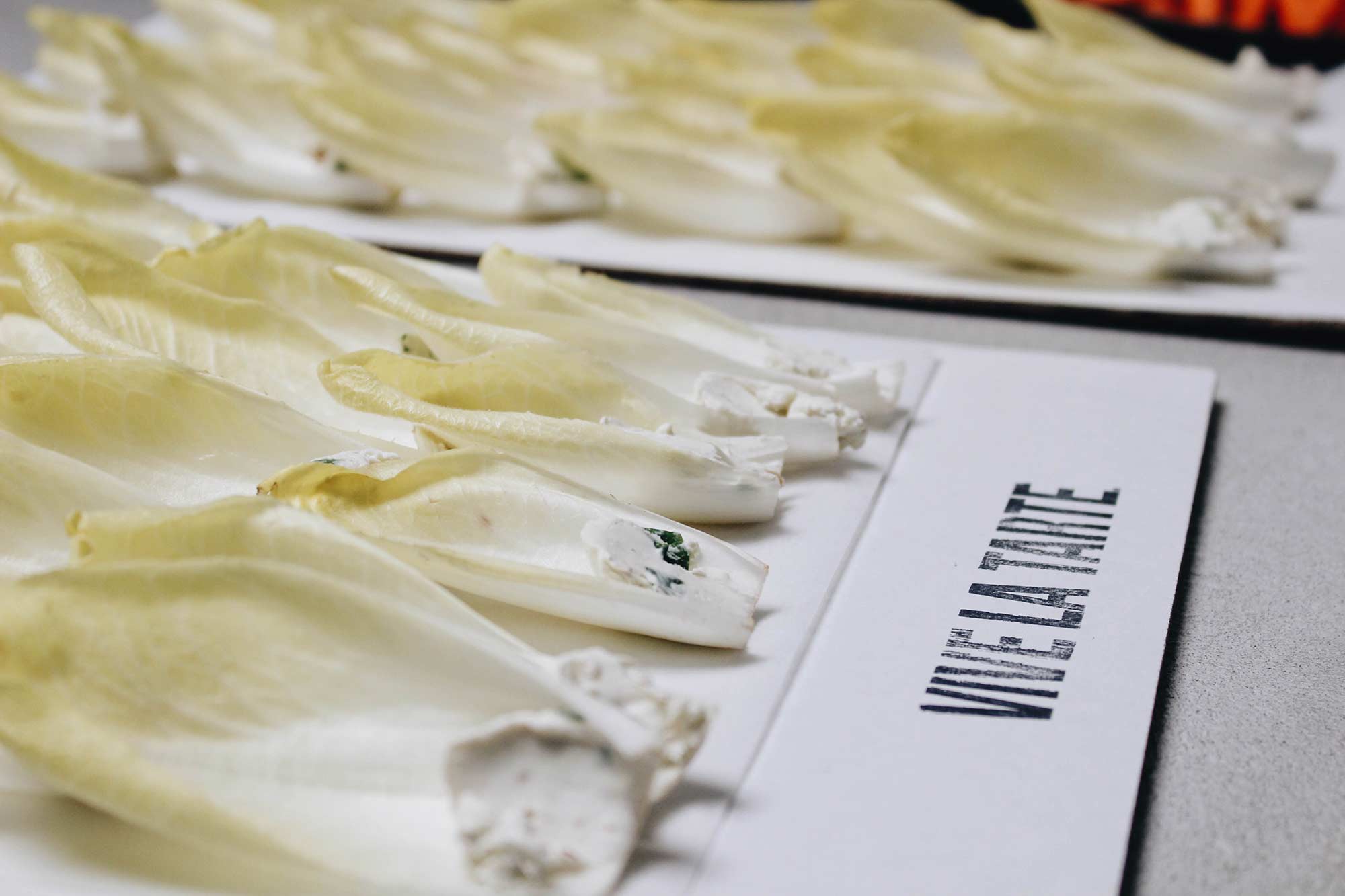 Samin's deep love of nature also influences her work in the kitchen. "I always ask the farmers what they're eating."  Attendees of the event were treated to a side-by-side comparison of organic Seascape strawberries, California's most commonly grown variety, and Albion strawberries, her personal favorite that was developed specifically for flavor and aroma by the University of California, Davis. "I have invested a lot of time at markets, talking to farmers," she explained, "and more than anything I love being able to share what I've learned with others." It's these invaluable pieces of personal knowledge that Guidebooks aims to share, and that turn the experience of eating with people into connecting with people.
As much as listening and sharing knowledge is essential to connecting with others, so is being present and mindful, especially in the kitchen. "The minute you get distracted is the minute you ruin something," she explained. "I've made a million pizzas, but as soon as I let myself think I don't need to pay attention, that's when a log rolls off the fire." But mistakes are a part of the process, and building community around a meal is what matters most in the end. "It's beautiful to get knocked down. It's meditative," Samin said on learning to let go. It's clear that her love of food is also enmeshed with her love of people and community. When she cooks a dinner she facilitates people being present for an experience–not just eating, but talking to one another and meeting strangers. "The idea that people are having a shared experience is what's important," she said, " and the food I'm making is one part of that."
Nourishing ourselves through our communities
When the right partnership emerges, Samin likes to collaborate with other local artists. Her collaborations range from a lamb roast with flower artist Sarah Ryhanen, to a Pop Up Magazine collaboration with pastry chef and food artist Leah Rosenberg.
Ever since her high school English teacher encouraged her to listen to that creative voice inside, she has continued to pursue teachers and mentors while teaching and mentoring herself. It's her best-tested personal advice to others seeking creative connections of their own. "I start at the end, and I research obsessively. I look for the most interesting people and then I write to them," she said, adding, "I've perfected the art of writing flattering letters!" It's how she got the job at Chez Panisse, and it's how Michael Pollan became her writing mentor while she gave him cooking lessons. Ultimately, this exchange of knowledge and boundless curiosity is also what cooking and eating is all about. It's about taking in new experiences, nourishing ourselves and our communities in the process and, if we're lucky, doing it over a good meal.
Event Photography by Candida Wohlgemuth.
Up Next